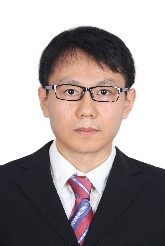 Prof. Zhenyu Zhou, North China Electric Power University, China
Zhou Zhenyu is a professor and PhD supervisor of North China Electric Power University. He is currently the deputy dean of the School of Electrical and Electronic Engineering, North China Electric Power University. He is mainly engaged in the research and teaching of cyber-physical fusion and smart grid information and communication technology. He served as the Academic Committee Member of the Hebei Key Laboratory of Power Internet of Things Technology, Energy Internet Committee Member of China Institute of Communications, IEEE PES Technical Committee Member on Power System Communications and Cybersecurity – China. He served as an Associate Editor or Guest Editor for International Top Journals including IEEE Internet of Things Journal, IEEE Communications Magazine, IEEE Transactions on Industrial Informatics, and Transactions on Emerging Telecommunications Technologies. He served as the Tutorial Chair, Workshop Co-Chair, and TPC Member for numerous international flagship conferences such as IEEE Globecom, IEEE ICC, and IEEE VTC.
He has served as a project leader for more than 20 projects funded by Chinas Ministry of Education, China's Ministry of Science and Technology, National Natural Science Foundation of China, Beijing Natural Science Foundation, Fundamental Research Funds for Central the Central Universities, etc., with a total project fund of more than 10 million yuan. He has won more than 13 domestic and foreign awards, such as the Industry-University-Research Institute Collaboration Innovation Award of China,  Beijing Outstanding Young Talent Award, IEEE Communications Society Asia-Pacific Board Outstanding Young Researcher, IEEE Globecom Best Paper Award, and IET Premium Award, etc. He has published more than 50 papers including 14 ESI top 1% highly cited papers. He is a senior member of IEEE, Chinese Institute of Electronics (CIE), and China Institute of Communications (CIC).
周振宇,华北电力大学教授,博导,2020中国高被引学者。现任华北电力大学电气与电子工程学院副院长。主要从事信息物理融合、智能电网信息通信技术的研究和教学工作。担任河北省电力物联网技术重点实验室学术委员会首届委员,中国通信学会能源互联网委员会首届委员,IEEE Power and Energy Society电力系统通信与网络安全技术委员会(中国)无线通信技术分委会以及电力信息通信人工智能技术分委会首届常务理事,IEEE IoT-J等国际顶级期刊编委或客座编委,IEEE Globecom、IEEE ICC、IEEE VTC等多个通信领域旗舰会议技术委员会主席等。
近五年主持国家自然科学基金面上项目1项、国网总部科技项目2项,项目经费累计超过1000万元。发表SCI一区、二区收录论文50余篇,ESI前1%高被引论文14篇,谷歌学术引用5700余次,编写"十三五"国家重点出版物出版规划项目专著2部,译著1部,获得授权发明专利10余项。中国电子学会产学研合作创新奖、北京市优秀人才、IEEE通信学会亚太区杰出青年学者奖、IEEE全球通信会议(Globecom)最佳论文奖、IET Communications Premium Award等国内外奖项13项。他是IEEE,中国电子学会(CIE),中国通信学会(CIC)的高级会员。